Million Dollar Hat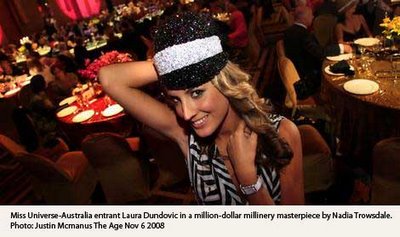 Diamonds are a girl's best friend. They come in all different colours, shapes, sizes and price tags. But look out diamond lovers the black diamond is the new pink, says renowned Melbourne milliner and creator of the million-dollar hat Nadia Trowsdale from The House of CAJ.
The million-dollar hat is a wearable piece of artwork, showcasing over 4,000 black and white simulated diamonds, especially cut and produced by SECRETS Shh… This million-dollar Black Secret was inspired by the 1920's art deco era. "As an artist I am always looking for inspiration be it history, art, or nature," says Nadia Trowsdale, "for this art creation I wanted to use the black diamond, because of its mysterious, elusive and magnetic powers, however after extensive research it was clear that black diamonds were extremely rare and prone to flaws and weaknesses, so I asked Susie Drever from Secrets Shh… to create thousands of flawless black diamond simulants to produce the dramatic and powerful effect that was needed to compliment this art deco inspired creation". 
The million-dollar hat took over a year to complete and thousands of hours creating the clusters and design. When you want to make a wearable piece of artwork it's a whole new way of looking at art. It's important that the design is engineered, tried and tested from every aspect to achieve comfort, design, balance, beauty, etc. 
For me it would have been a shame to create this beautiful artwork and not be able to wear it comfortable. The million dollar hat has special powers; apart from the obvious it is believed in medieval times waving a black diamond in front of an aggravated spouse resolved all conflict. Just imagine what 4,000 of them could do!